How to get to Niseko Grand Hirafu ski resort
|
Niseko is by far the most popular ski resort in Hokkaido. Its world-famous powder is joined by Japanese culture to give an experience like no other.
Niseko is actually a combination of four ski areas on the same mountain. They are quite far apart at the bottom, but the ski areas meet at the top. They are:
Hanazono
Grand Hirafu
Niseko Village
Annupuri
The best-developed of these, and the most popular for international tourists, is Grand Hirafu. It is not close to many towns and can be quite difficult to get to. This guide will show you the different ways on how to get to Niseko Grand Hirafu.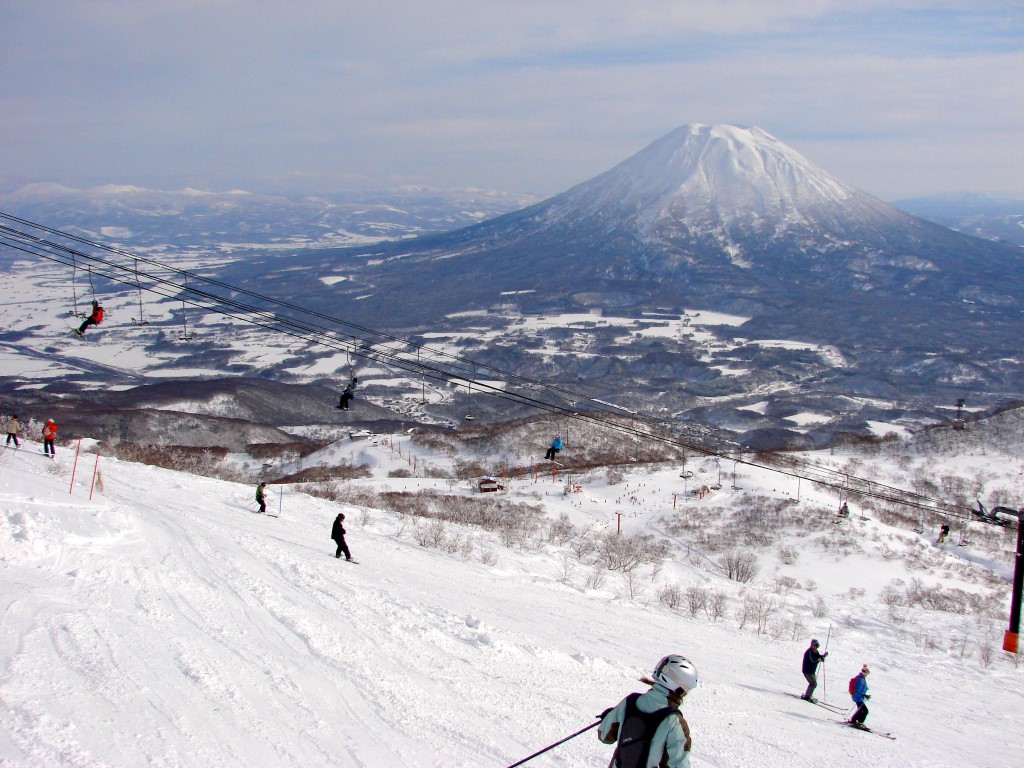 View from Grand Hirafu. Image source
First, get to Hokkaido
Hokkaido is a large island at the north of Japan, about the size of Ireland or slightly smaller than South Korea. Its main city is Sapporo.
The easiest way to Hokkaido is by air to Shin-Chitose Airport (New Chitose Airport). Most people fly to Tokyo and get a connecting flight. Some international flights also fly directly to Sapporo, e.g. from Kuala Lumpur using AirAsia.
Once at the airport, if you want to go to Sapporo first, it's very easy to go by train. Trains to Sapporo are every 15 minutes directly from the airport's station, and cost 1070JPY each way.
Then, get from Shin Chitose Airport to Niseko
Most people transfer from the airport by bus. Niseko bus runs four services a day through the winter directly to Grand Hirafu. Check the timetable for times and stops. (Note: Niseko Hirahu = Grand Hirafu). The fare is 4400 yen per person. Reservation is recommended during peak season.
The bus will drop you off at the Welcome Center in Grand Hirafu, which is a large car park at the top of the village. Contact your hotel to see if they will pick you up from the Welcome Center. Otherwise, you could take the village's B-Line bus around the village. Or you could walk – most hotels are walking distance away.
…Or get from Sapporo to Niseko
There are two buses a day from Sapporo to Niseko, and two coming back. Check the Niseko Bus page for times and stops.
As above, the bus will drop you off at the Welcome Center.
Can you get to Niseko by train?
There are no useful train services all the way to Niseko. Don't get fooled by the fact that there is a train station called 'Niseko' nearby. This serves the village of Niseko (not the same as Niseko Village) which is actually quite far from the ski resorts.
It is better to take the train to Kutchan, the town nearest to the ski resorts. Then, from Kutchan, you have several options:
The shuttle bus is the obvious choice if you are on a budget, but check the link above first. The buses only run in the evening and during peak season, primarily so that people staying in the resort can enjoy Kutchan's restaurants.
To go by train, the route is:
Airport — Sapporo — Otaru — Kutchan.
You sometimes have to change at Sapporo, and you definitely will have to change at Otaru. The fare is currently 2630 yen. Check your route with Hyperdia.
If you are wanting reservations, it is generally not possible to reserve trains outside of Japan. In any case, The majority of services on these routes are unreserved anyway – just buy a ticket and jump on.
What about the ski train?
You may have heard of the Niseko Ski Train. This is a direct, express service from Sapporo to the village of Niseko, stopping at Kutchan on the way. It avoids needing to change at Otaru. The train runs a few times a day during the winter season.
The best way to get times is probably just to check your route on Hyperdia. If the ski train is running when you want to travel, Hyperdia will show it as a possible route.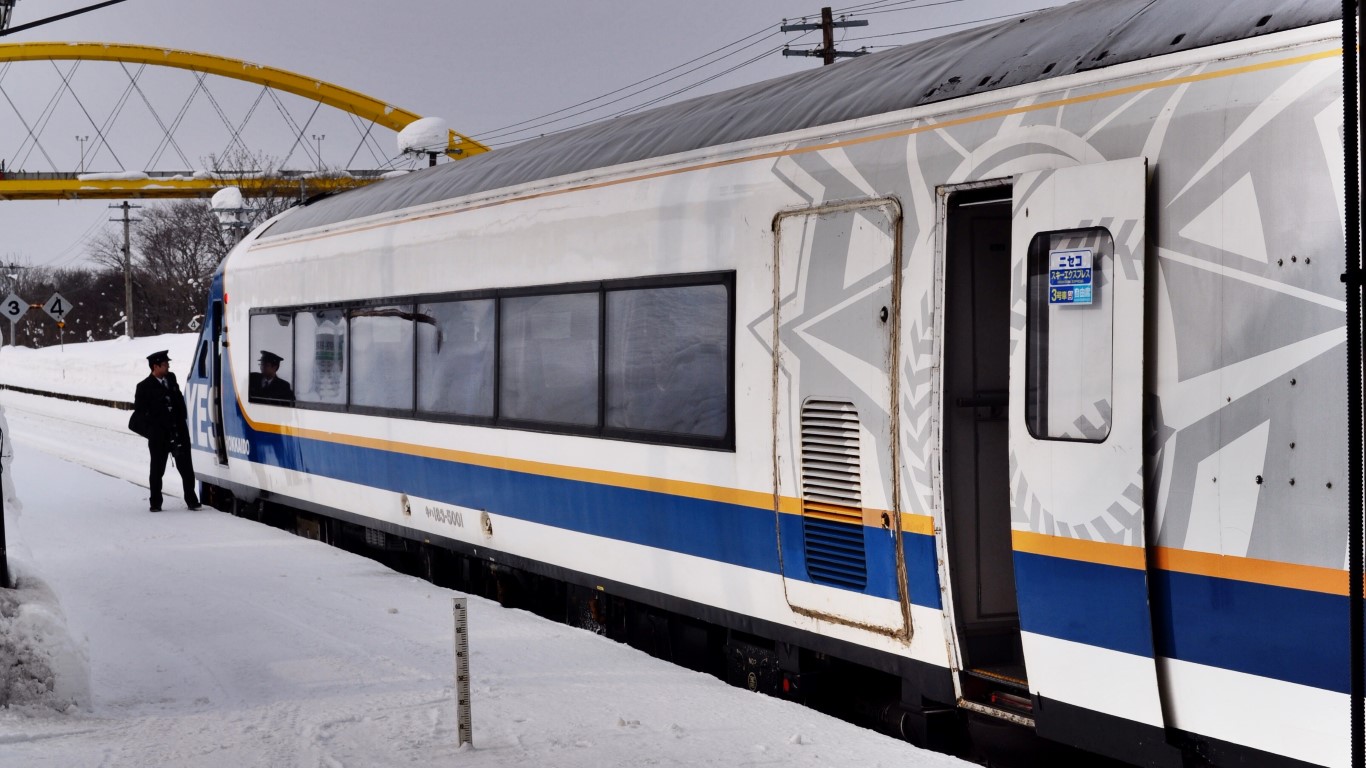 Niseko Ski Express. Image source
Can you take a day trip to Niseko?
Many ski resorts in Hokkaido are a short train or bus ride from Sapporo – the best base for a day-trip style ski holiday. This is a great way to ski in Hokkaido on a budget, since you can stay in cheap Sapporo accommodation, and use a tourist rail pass to get around.
Niseko is just a little too far from Sapporo to visit just for the day to get a good day of skiing. However, if you don't mind having a slightly shorter day, it can be done, if for a few hours:
Take the 07:55 bus from Sapporo bus station.
Arrive at 11:01 at the Grand Hirafu Welcome Center
Go ski!
Catch the 17:09 from the Welcome Center back to Sapporo
This gives you about 6 hours in Grand Hirafu – remember to factor in travel time to/from the Welcome Center.
One disadvantage of not staying the night is that you don't have a hotel who might provide help with transport. On the plus, accommodation in Niseko is expensive…
Header image source courtesy of Mark Kenworthy under Creative Commons licence