Planning a weekend ski trip to Les 3 Vallees, France
|
Last winter, a friend and I were looking to go skiing for the weekend. The challenge was to do it without having to take any time off work, to maximise time on the slopes, and not for stupid money.
This post is about how we planned for that weekend, how it went, and what I would do differently on my next weekend ski trip in Europe.
Deciding where to go and how to get there
We are both based near London, so that was the obvious point from which to plan. The challenge with ski resorts is that they, by their very nature, difficult to access, and we didn't want to spend most of the weekend travelling to and from the resort rather than being at the resort itself.
Most ski resorts tend to let accommodation on a weekly Saturday-to-Saturday basis. This obviously was not going to be suitable, so if we were going to use a hotel then likely it would have to be a hotel in a nearby town rather than at the resort itself.
But this also means that the quietest day on the slopes is Saturday. So this would be a good day to target for the actual skiing. It would be nice to already be there by Saturday morning, which would mean travelling down Friday night.
This ruled out flying from the UK. Short haul flights generally don't fly in the late evening, so we wouldn't be able to fly Friday night. The first flights on Saturday morning still wouldn't be able to get us on the slopes before lunchtime on Saturday.
How about driving? Technically possible, but we would have been looking at an overnight drive, finishing with us climbing up the snowy mountain to the resort without having slept. Probably not ideal.
This would not have been the first time I have been skiing in Europe. In February 2014, I went skiing for the first time in Val Thorens, a resort of the 3 Vallees in the French Alps. We took the overnight train from London to Moutiers each way for the week-long trip. A quick look on the Eurostar website showed that are two trains per week in each direction throughout the ski season. A crazy idea – could we take the overnight train for a day of skiing from London?
Amazingly, it is possible! There is an outbound train from London on Friday night, travelling direct to the French Alps, and a return train on Saturday night in the opposite direction. It would only allow one day on the slopes, but it would be a full day, and unlike driving or a night on an airport floor, there was opportunity for a good few hours' kip on the train.
So, it looked like we were going to the 3 Vallees. Since we were only going for one day, it seemed like a good idea to return to Val Thorens. I enjoyed the slopes here last time, and there was still plenty I wanted to do there. It would mean we could head straight to my favourite runs without having to spend time getting acquainted with a new resort.
Taking the Ski Train to Les 3 Vallees
We bought the train tickets for the Eurostar well in advance, with a return costing around £150 per person. We went standard class outbound, and due to a good price, we got the standard premier class return.
In hindsight, I would really recommend getting the standard premier in each direction! The journey is around 10 hours, and it's best if you try and get as close as possible to a full night's sleep. Here are the two classes:
This is standard class: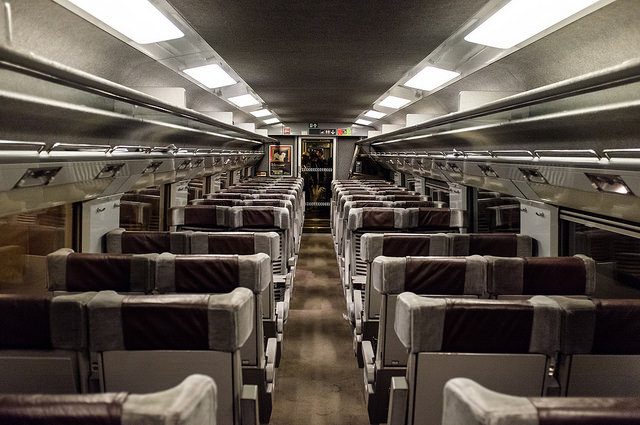 Image: Stephen H
And this is standard premier: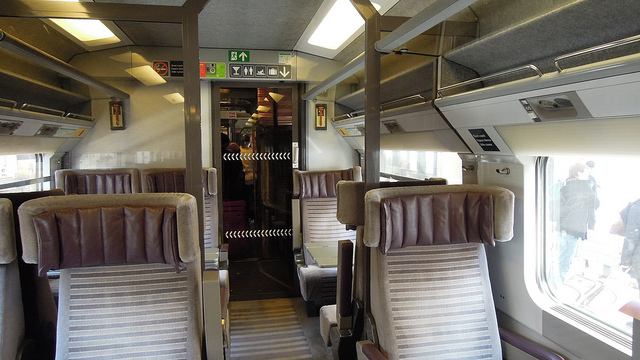 Image: David McKelvey under Creative Commons
The difference is the extra space. Standard class may be fine if you are doing the 2 hour journey from London to Paris, but for getting a decent rest overnight, the extra space is definitely worth a little extra money!
The outbound train has a great party atmosphere. Bring food and drink with you and enjoy the ride!
Arriving at the French Alps – things start to go wrong
The train makes multiple stops at different stations within the French Alps. We planned to alight at Moutiers, the nearest station to Val Thorens, and then to take a public bus between Moutiers bus station (which is connected to the train station) and the resort.
Arriving at Moutiers, to our confusion, the buses to Val Thorens don't seem to be running. Through a combination of asking other confused tourists, and my own broken French, I learnt that the road to Val Thorens (there is only one!) had been closed due to a large boulder blocking it. There was literally no way to get to Val Thorens that day.
Adamant that we had not come half way across Europe to see a train station, we tried to see where else we could go from Moutiers. There are many resorts in the area, but they all seem to be connected by a highly fragile road network with no redundancy. The only available option was the resort of Courcheval, which as it turns out wasn't a terrible compromise.
Plan B: Courcheval
Courcheval is a little more up-market than Val Thorens. VT has a big student-y crowd, while Courcheval seems to attract couples and very middle-class families, as evident from the architecture and the extremely expensive-looking jewellery shops. It is also exceptionally beautiful.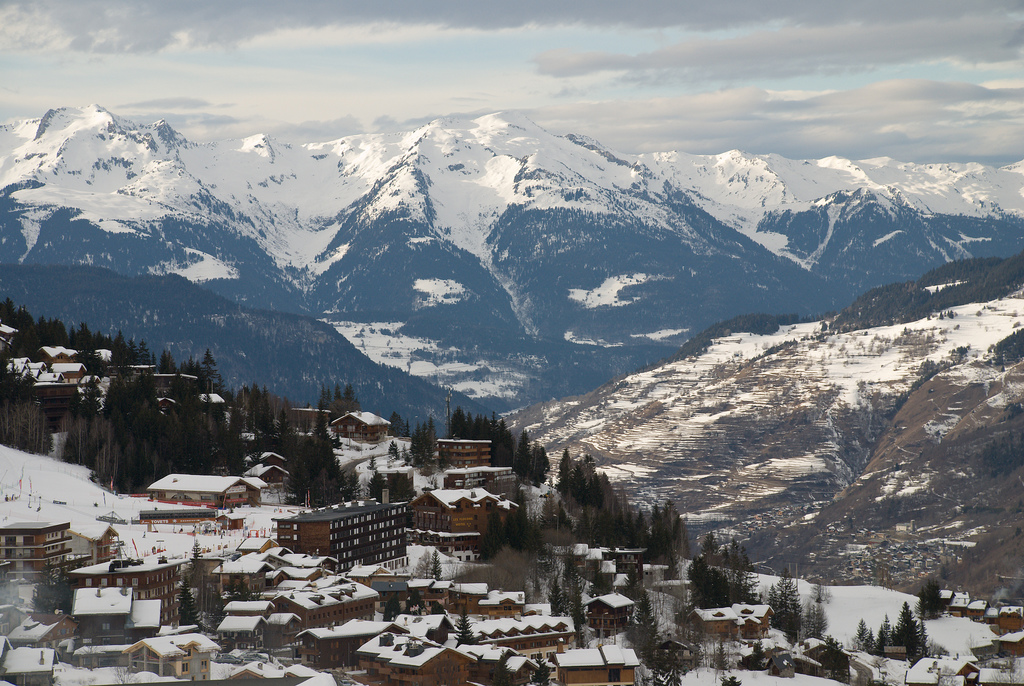 Image: Clifton Beard under Creative Commons
We had pre-paid for pretty much everything before we left the UK – all for Val Thorens. We had to buy new ski passes and pay for ski rental again. We explained the situation at the ticket counter, but they said we wouldn't be able to transfer our ski passes as we had bought it from a different company. We would have to buy again and try and get a refund later on. This is certainly some useful advice – there are no real benefits for buying ski passes in advance, save from a couple of minutes in the ticket queue! If you're thinking of buying in advance, I would say not to bother. Similarly for ski hire, there are so many rental shops that, unless you have an unusual shoe size, you should have no problem finding equipment by turning up on the day.
At long last, by mid-morning, we were all kitted out and ready to go skiing! Courcheval is certainly more attractive than Val Thorens, which is very concretey and faux-chalet, with few trees. The mountains are stunningly high – certainly much more dramatic than the smaller mountains of northern Japan.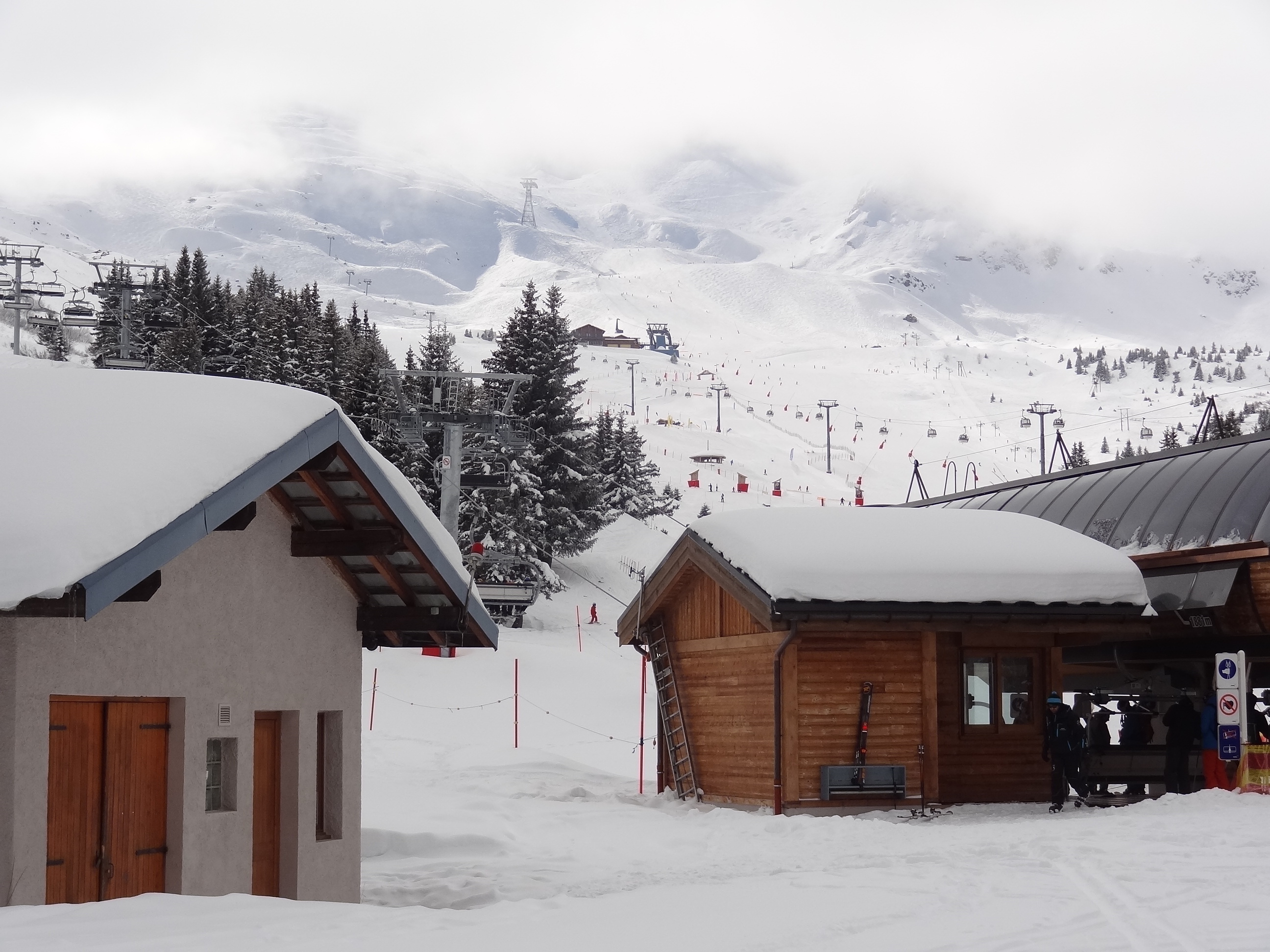 Image: James Ramsden
Courcheval has a good mix of beginner, intermediate and advanced slopes. Skiing with my beginner counterpart, we spent some time on the nursery slope before moving onto a green run. The resort thankfully wasn't too busy, though I suspect it would get a bit crazy in peak season when it's not Saturday. Like all major European ski resorts, there are mountain restaurants aplenty, which provided us with a tasty but ridiculously over-priced pizza for lunch.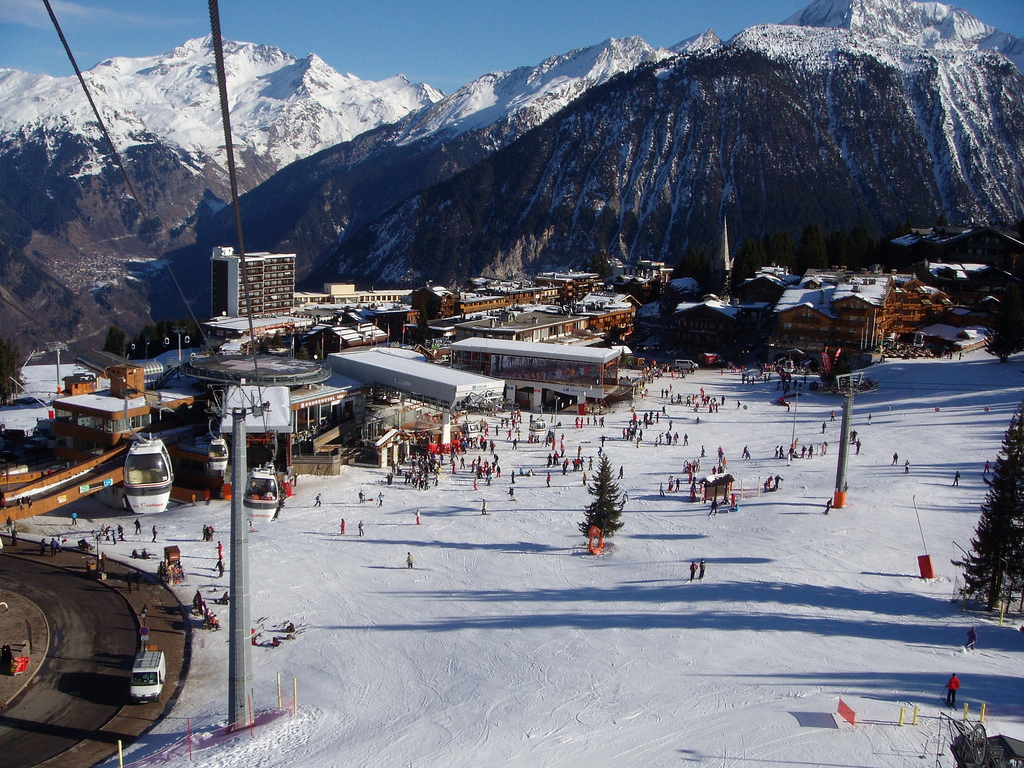 Image: James Mellor under Creative Commons
Heading back
After lunch, we went to the tourist information to double-check that we could get back to Moutiers this evening, being well aware of the problematic roads. Turns out they had some not so good news – they were imminently closing the road to Courcheval! We had missed the last bus, and in a panic we had to organise a taxi to come for us.
So, mid-afternoon and with some 6 hours to kill, we were back in Moutiers, waiting for the train to take us back to the UK.
Would I do it again?
We did have a lot of bad luck on this trip. I'm sure we could do it another 10 times and be fine. But the sensitivity of the road network to problems means that I would probably head to a slightly more robust area.
Next time, I may be tempted to look at the area around Bourg St-Maurice. This is the terminus of the ski train, and the ski resorts round these parts are much closer to the train station.
I would be happy to take the train again, though I would not go in standard class. Try and book your tickets far in advance for the best prices.
I don't know why I wrote this article in summer though. It's just made me want to skiing right now…